Martial Arts Spring Floor
A Martial Arts Spring Floor will add long-lasting comfort to your dojo as well as cushion your body for the heavy impact attributed to throws, takedowns and falls from sports such as Judo, Wrestling, Brazilian Jiu-Jitsu, MMA, Aikido, Hapkido and other martial arts. Commonly overlooked when planning, a Martial Arts Sprung Floor aids by softening falls, minimising the return shock into the body and helping avoid injury to the body. Injury to the body is one of the biggest oversights when planning for your dojo floor and is the most important of them all before floor colours and trims.
Adding comfort and safety is a priority for many clubs and their members. A Martial Arts Spring Floor System is proven to add comfort, increase student retention and sign-up as well as injury prevention. Turn your floor into a feature and talking point with safety and comfort combined into one.
Talk to us for more info or if you would like a quote for your Martial Arts Sprung Floor.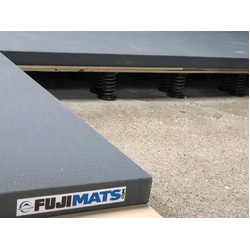 From $380.00
or 4 payments of $95.00 with

Info